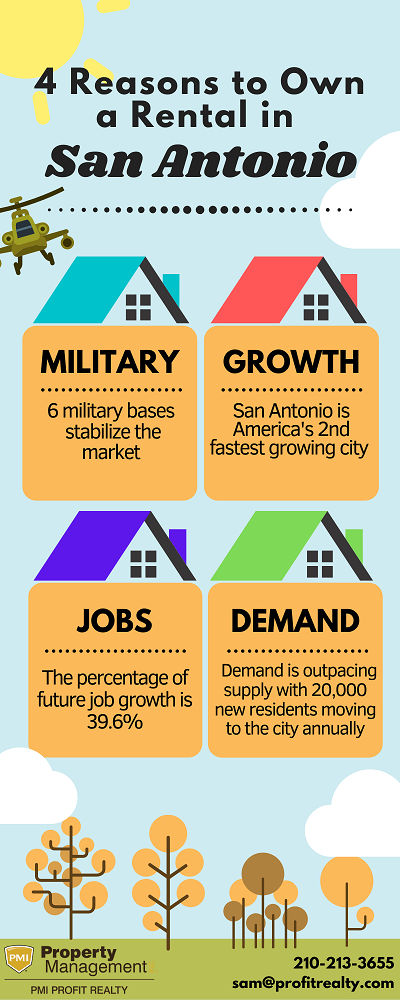 San Antonio is an excellent destination to own rental property for many reasons. The city continues to attract military personnel, young professionals, families, and retirees due to a low cost of living, high projected job growth, and 220 days of sun per year. Consequently, the city continues to grow and boast a strong rental market. Here are 4 reasons why San Antonio and the surrounding area are guaranteed to get you a great return on your rental investment.
Military Presence Stabilizes the Rental Market
San Antonio is known as "Military City, USA" due to the large concentration of military bases in the area. 1 in 8 households in Bexar County is associated with Joint Base San Antonio (JBSA). Supporting 80,000 active-duty military personnel and three installments of up to 138,000 students annually, JBSA will continue to attract military folks looking for long-term and short-term rentals for many years to come.
Continual City Growth Creates Demand
With over 20,000 people moving to San Antonio each year, the city has seen a surge in population, and researchers predict this growth will continue to happen quickly and continuously. Alamo City is projected to be America's 6th largest city by 2021. This surge in population is due to immigrants and young professionals migrating to the city for its strong job market and low cost of living. As the city grows, so will the demand for rentals.
Strong Job Market Promotes Demographic Momentum
Students, young professionals, military personnel, and immigrants give San Antonio a diverse and young demographic profile. There are more 20 to 29-year-old residents in the city than any other age group, and most of them are looking to rent. 46% of housing units in San Antonio are renter occupied. This number will only continue to grow as younger people move to the city.
Demand Outpaces Supply
The demand for rental properties in San Antonio is exceeding the current supply and will continue to exceed the supply as growth continues. There is an especially dire demand for the middle of the market type assets. The profit margin is excellent for landlords as the rental market will remain stable and strong.
It is crucial to take advantage of the city's extremely fast growth rates and grow your real estate investment alongside it. Profit Realty is here to advise on your brokerage and property management needs. Contact Sam Maropis at 210-213-3655 or sam@profitrealty.com to capitalize on San Antonio's bustling housing market now with Profit Realty.